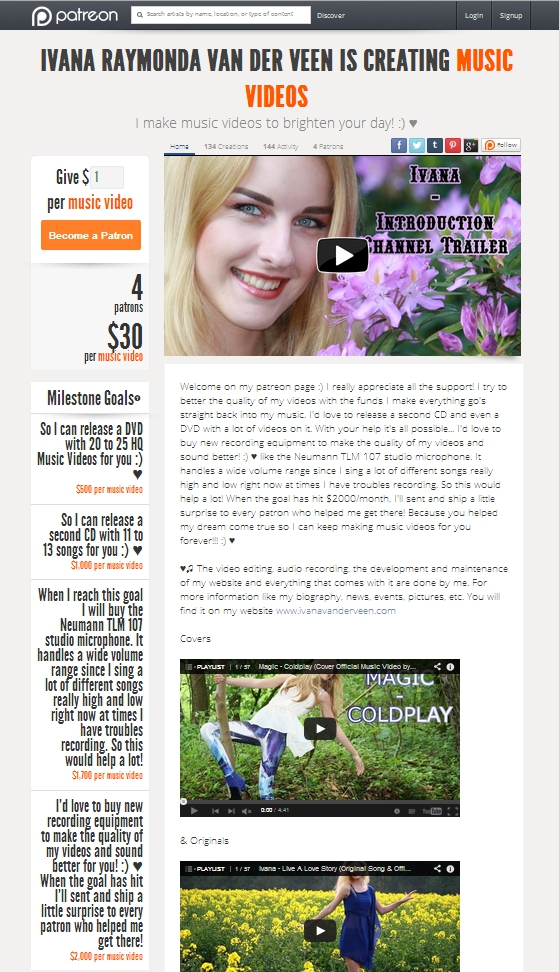 Support Ivana creating Music Videos @ http://www.patreon.com/ivana
♥♫ Welcome to my patreon page 🙂 ♥ I really appreciate all the support! ♥
What is patreon? Patreon is an awesome way to help support the artists whose work you enjoy. It's a new funding platform that is similar in many ways to Kickstarter or IndieGoGo, with one major difference: instead of giving one large donation towards a big project, with Patreon you can give regular support to the artists you love who are creating content on an ongoing basis! ♥
♥♫ The video editing, audio recording, the development and maintenance of my website and everything that comes with it are done by myself and with your help I can make the quality of my work even better! 😉 ♥ The funds I raise here all go straight back into my music and the making of better videos for you all 😉 How I'd love to release a 2nd CD and a bunch of videos on DVD! With your help it's all possible… 🙂 I would also like to invest in a video editing program to improve the technical quality of my work 🙂 ♥ I use a free program now which doesn't have a lot of functions so this would help a lot! Once I've hit $2,000 a video, This goal will give me all freedom to make my videos the way I want HIGH Quality and new fresh ideas 🙂 ♥ I will make a special video for every one of you lovely patrons who helped me get there! Because you helped my dream come true so I can keep making music videos for you forever!!! 🙂 ♥ If you'd like to know more about me, check out the biography, news, events, pictures and more on my website www.ivanavanderveen.com
Asked Questions:
Do I have to pay in US Dollars? NO – Pay in any currency! As this is a US based website, everything is written in Dollars, but you can use any currency and it will be automatically converted.
How many music videos will you release a month? I try to upload one music video every 2 weeks 🙂 ♥. Maybe more, maybe less. You won't get charged for non-music videos. I promise to bring you nothing but the absolute best production and effort that I can. You don't have to worry, as you can set a monthly maximum when you sign up so that you never donate more that you can afford. 🙂
I don't have much money, can I still become a Patron? Yes, please only sign up to donate what you can easily afford. Even $1 per music video I upload will make a huge difference and would be greatly appreciated. 🙂
Can I stop donating in the future if I can't afford it? Yes of course! If you can't afford to donate in the future, or you need to donate less that's absolutely fine. You can just log in to change or cancel the account whenever you want 🙂 ♥
I can't make my dreams come true without you! 🙂 So THANK YOU to everybody that supports me!
I wish you a wonderful day!
Much Love ♥♥♥. Ivana
Quote;
Proud to be supporting @ivanavanderveen on her journey to bring us sweet music. http://t.co/UfLm0pC6cg
— Roger (@rad192) June 11, 2014