About Me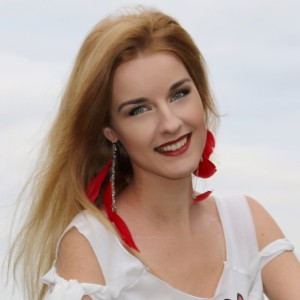 My name is Ivana Raymonda van der Veen and I'm a singer.
Video editing, audio recording, the development and maintenance of my website (www.ivanavanderveen.com) and everything that comes with it are done by me.
I produced my first music video at the age of 14 and have been going ever since.
I've built a world-wide fan base on social media sites and have over 49.000 subscribers on YouTube. These days I mostly sing original songs and now and then a cover song.
To date, I produced over 80 original songs, more than 100 cover songs, and released 3 CDs: Dreams (2014), Timeless (2015) and Reality (2016).
In 2010, I made my radio debut and many other radio stations from all over the world began playing my music on the air waves.
In 2011 I gave my first major live performance, and appeared on television in Israel.
In 2012 I gave my first concert abroad in London.
In 2013 I was selected by Darkstone Entertainment to sing the song "Little Miss Understood" for their Sci-Fi/Horror movie "Plan 9".
In 2014, I took first place in a competition on ArtistSignal winning a grand prize.
In September 2015 I released my first DVD "Timeless Dreams" and it has been sold all over the world.
In 2016 I reached #1 position on the iTunes Pop chart with "You Don't Own Me" in Ecuador.
My dreams are to release a fourth CD and second DVD and to make a lot more music videos for you to watch.
I hope that my songs will brighten your day!
Much Love Xxx. Ivana